Ed Van Dusen Legacy Award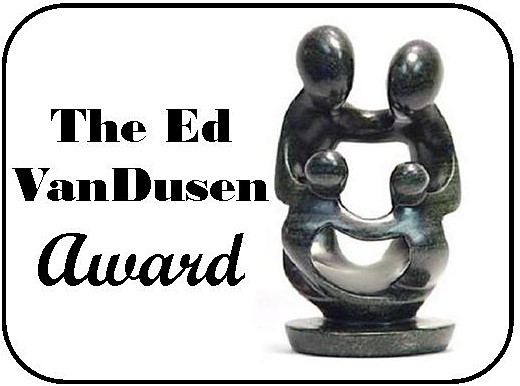 The Ed Van Dusen Legacy Award for Exemplary Practice in Child Abuse Prevention, or "The Ed" for short, is an annual award created by the members of the Idaho Children's Trust Fund Board to recognize and reward a particular child abuse prevention effort in Idaho that is creative, innovative and impacts the community in a positive way by preventing the abuse and neglect of children.
Ed Van Dusen might rightly be called the "Father of the Idaho Children's Trust Fund" because of his role in getting the organization established in 1985. After his death in 2009, the Trust Fund's board renamed its "Board Award" in his honor.

Winner of the 2020 Ed Van Dusen Legacy Award
Protect Idaho Kids
Protect Idaho Kids was started over 10 years ago in the wake of the death of 8 year old Robert Manwell from unthinkable abuse. Bruce was so moved that he felt called to do something to make sure nothing like that would happen again. PIK came out of that. PIK has raised awareness around abuse and neglect in a variety of ways- public service announcements, booths, bicycle giveaways. For the last 5 years, PIK has organized groups working to change the religious exemption to medical neglect in the community and at the legislature. Bruce and PIK have been champions for children's rights and protections.
Past "The Ed" Award Recipients:
2020- Protect Idaho Kids
2019- The Mahoney House
2018 – Bannock Youth Foundation
2017 – Family Services Alliance of Southeast Idaho
2016 – The Idaho Foster Youth Advisory Board
2015 – Family Advocates
2014 – Giraffe Laugh
2012 – Research and Service Navigation/ Idaho KinCare Project, Statewide
2011 – The ICARE Program of St. Vincent DePaul, Coeur d'Alene
2010 – Idaho Association for the Education of Young Children
2009 – Easter Seals-Goodwill
2008 – Help, Inc
Nominations for "The Ed" Award
Eligibility for Application
Any agency or organization engaged in efforts to prevent child abuse and neglect in Idaho is eligible. This includes, but is not limited to: non-profits, government agencies, schools, hospitals, foster parents, faith communities, child care centers, coalitions, private counseling centers, homeless shelters, and service clubs. A legacy award winner may not be nominated again.
Criteria
The efforts to prevent child abuse and neglect undertaken by the nominee should be innovative, creative, collaborative, able to be replicated, have a positive impact on the community, receive community support, and occur in Idaho. Every year the ICTF board convenes to decide which organization will receive The Ed award!
Award
The winner of "The Ed" will receive a $1,000 monetary award to be used to continue their efforts to prevent child abuse and neglect in Idaho. The winner will also receive public recognition through the ICTF's website, newsletter, and any other available media. All recipients must provide ICTF with a letter describing the work undertaken with the award prior to the next Strengthening Families Training Institute.