Families First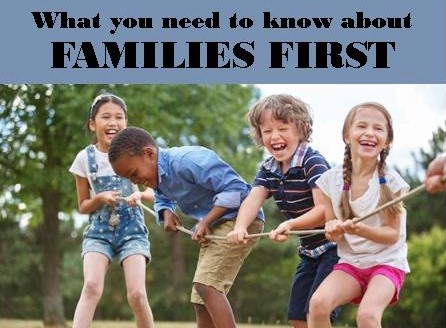 Included in the bipartisan budget act that passed recently by Congress was the first significant reform of child welfare financing in a generation. Unlike previous federal funding which helped maintain the foster care system through subsidies for room, board and other services, the new law aims to prevent children from entering foster care in the first place by providing funding for prevention services.
The new legislation called Family First Prevention Services Act (FFPSA) allows states, territories, and tribes with an approved Title IV-E plan to have the option to use these funds for prevention services that would allow "candidates for foster care" to stay with their parents or relatives. A written, trauma-informed prevention plan must be created and services will need to be evidence-based.
It comes with a 50/50 match of state dollars, will provide reimbursement for up to twelve months of mental health services, substance use treatment and in-home parenting skills training —in short, the "family-strengthening" ballast that can keep children out of the foster care system in the first place. The legislation provides resources for parents or family members and specifies that all services must be trauma-informed.
The new federal dollars aimed at prevention which would be used by the state's providers of health and welfare services could pay for residential substance abuse recovery centers that accommodate mothers along with their children, or dyadic mental health therapies that treat both generations at once.
The Family First Prevention Services Act also seeks to curtail the use of congregate or group care for children and instead places a new emphasis on family foster homes including extended family "kinship care".
Here is a more technical overview:
Overview of Provisions in the Family First Prevention Services Act