Public Health Works
Reprinted from the Idaho Post Register
By TOM HOLM, Posted: February 8, 2017
---
Eastern Idaho Public Health
1250 Hollipark Drive
Idaho Falls, ID 83401
208-522-0310
phd7.idaho.gov
About 10 children gamboled about under the watchful eye of their parents Tuesday at Eastern Idaho Public Health's Idaho Falls office. The children, ranging in age from toddlers to 5-year-olds, played with brightly colored toys or snaked through oblong child-sized cylinders. The parents act as teachers in this scenario, giving the children pro-social advice and making sure they burn off some of that relentless energy. The two-year-old "Parents as Teachers" program emphasizes parents engaging with their children. The participants come through referral or by choice to the program. Some of the families are low income or have children with developmental issues while others come for the free play time.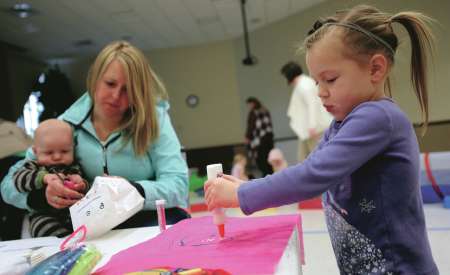 Cami Walker, holding her smiling, slobbery 4-month-old boy named Ammon, enrolled in the program in April. She, her four children and her husband moved from Utah to Idaho about two years ago. Her husband works at a farm and is going to school to get a degree.
The program is ideal for parents with no ties to the area, as it puts them in contact with other parents, said Program Coordinator Holly Whitworth. Public Health employees make home visits with each family once or twice a month and show parents activities to do with their children to promote emotional, physical and social health, Whitworth said.
The "Parents as Teachers" program is one among many — often free or reduced cost — services Eastern Idaho Public Health provides.
Public Health and its 110 employees serve eight counties in all manner of ways.
The department's staff administer a variety of services from providing health care to the needy, to immunizations, to parent-education classes, to restaurant licensing and environmental protection.
Many of the programs work in tandem to benefit eastern Idahoans who would otherwise not receive care. The Women Infants and Children program will refer young mothers to the Parents as Teachers program. The immunization clinics will recommend vaccines performed by the reproductive health program to prevent human papillomavirus.
Public Health spokeswoman Mimi Taylor said the state- and county-funded health district doesn't try to compete with other health organizations in eastern Idaho. Taylor said Public Health's goal is to fill in the gaps where people are not receiving care.
Parents as Teachers
Whitworth said the "Parents as Teachers" program has stayed at its capacity of 50 enrollees since it started.
Walker said it isn't hard to convince her 4-year-old daughter Maci to attend the monthly community events hosted at Public Health's Hollipark Drive office.
Walker said getting the kids to roll out of bed or focus on any other activity can be difficult.
"(The program is) great bribery for my kids," she said.
She said the kids enjoy playing and learning developmental activities, and Walker gets to learn how to implement the activities at home. She said Whitworth visits her home twice a month and shows her how to make cheap, engaging toys such as cutting up cereal boxes to make into a toy car race track.
"You know the game Mancala? Well instead of going out and buying a board, Holly came by with rock marbles and an egg carton to make the game," Walker said.
Whitworth said there could be room for expansion, the program is currently only offered to Bonneville County residents, and hopes more parents join.
"Parenting is the hardest job anyone ever does," Whitworth said. "We are here to help parents achieve whatever they hope for as their child develops."
---